Part 1- Filipino Food Fest: Blood Stew and Banana Ketchup
Article by Chris Fellini with photography by Joshua Fitzwater
(Lead photo- FeLynn's fried tilapia)
Before service in most restaurants, the staff will get together to share an impromptu meal. Family Meal is a chance for everyone to eat together and talk before the evening begins. It's the restaurant's water cooler, boardroom, and soap box. It's a place to continue the honest debate on food. Southern Grit: Family Meal is an opportunity for those same conversations. As part of an ongoing series, Family Meal is an open invite to anyone looking to engage in the debate. Each segment will focus on a specific cuisine or theme in food. Each time, we'll get together a small group of like minded eaters. Some of these people will be experts or enthusiasts in the cuisine, some people will just be curious. The whole point is to pair up people of all different backgrounds and see what kind of conversation happens. Consider it a social experiment. Consider it an excuse to talk. No matter what, consider it a family. For more information, follow us on Facebook at http://www.facebook.com/southerngritmag  to hear about the next one.
According to the National Federation of Filipino American Associations – Hampton Roads Chapter, Virginia has the ninth largest population of Filipinos in the U.S. with almost three quarters living in Hampton Roads. To anyone who's grown up in the area, that shouldn't come as a surprise. I grew up in Virginia Beach, with plenty of Filipino friends. I've had friends give me entire freezer bags full of lumpia, and I've fallen in love with the crispy fried rolls stuffed with chicken or pork. I've had several friends offer me adobo, and who doesn't love pancit. Lately, I've grown more curious about Filipino cuisine. I bought a bottle of banana ketchup, I tried calamansi, I even went to Jollibee. To be honest, though, it's not as easy to dive into as say, Indian or Thai food. Filipino food has avoided gentrification, for the most part. It's still a cuisine largely eaten by members of the community, as opposed to being commoditized the way Chinese food was. It's a blessing and a curse, because it means that authentic Filipino food is all around us, but not always the easiest to track down. And even when you do find a spot, how do you know what to order? There's no General Tso's or California Roll to ease you into it. Except for lumpia and adobo, I knew next to nothing about Filipino cuisine. To properly explore it, I reached out to my friends on Facebook to see if anyone wanted to tag along and show me the ropes.
(above: Raymond Braza of Toast and Chris Fellini of Southern Grit in line at FeLynn)
We start our adventure at FeLynn, on the border between the Salem and Green Run neighborhoods in Virginia Beach. Raymond Braza, Dave DeGrave, and Gandhi Holub drive together, and are waiting inside with Bianca Busante. Bianca and Raymond work together at Toast in Norfolk, and are our unofficial tour guides for tonight. Dave and Raymond live together. Dave's not Filipino, but is just as interested in the food as I am. Gandhi is Filipino, but admits he's not as knowledgeable as Raymond or Bianca and is really just here to eat. FeLynn is a turo-turo, which is Tagalog for "point-point." In the far corner is a buffet. We head to the back of the line as Bianca explains that you just point at the food you want and they plate it for you. Fitz and I tell Bianca and Raymond to just order what we have to have. There's some back-and-forth with Bianca trying to really narrow down what we want. Finally, Bianca tells the girl behind the counter that we want three 2-entree plates. I'm eyeing some of the fish in the display case to the right of the main entrees and order a whole fried tilapia. This apparently comes separate from the combo, so I also order two skewers of the BBQ. Bianca also orders sisig, caldereta, and dinuguan.. We order three halo-halos as we're paying, and I snag a turon. We head to a table in another corner of the restaurant.
(Above: Bar inside FeLynn and Raymond Braza demonstrating the proper way to scoop Filipino food)
As we head that way, I notice all the eccentricities of the restaurant. The furniture all seems to have been an afterthought, items found as they were needed instead of bought to fit an image. There's a stand alone bar with everything from Red Horse to Jack and Coke. The bar is dark wood, and completely clashes with the brightness of the rest of the room. The dining hall is filled with a hodgepodge of tables. Some are round, some are square, all are covered in silky green tablecloths. There's a wooden dance floor with an expensive looking P.A. system next to our table. FeLynn serves as a karaoke hall, restaurant, and general use space for everything from weddings to baptisms. No karaoke today, but the flat screen behind the dance floor is playing soap operas on TFC (The Filipino Channel).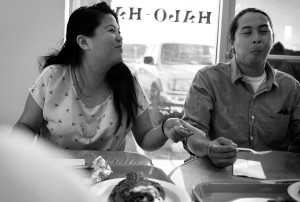 (Above: Bianca Busante and Raymond Braza of Toast Restaurant at FeLynn)
The food is passed around and we start poking and prodding at different dishes. Bianca and Raymond show us the proper way to use our fork and spoon. The spoon is used to scoop up the  ulam (Tagalog for an main dish), and then the back of the fork is used to rake some kanin (Tagalog for rice, eaten at every meal) onto the spoon. There's no golden rule for the portion of rice to meat, but you always want a bite of kanin with the ulam. Raymond tells us the traditional way to eat the fish is to just pull a chunk off with your fingers and dip it in the vinegar or fish sauce ("Be careful not to get any on your finger, cuz that smell will never come off!") then make it into a mound with some kanin. You put the mound on your fingertips with them facing towards your mouth and use your thumb to push the mound into your mouth. The first time I try this, I wind up wearing a lot of the kanin, but the second time I do better. Although it seems like an awkward position to put your arm in, it makes sense when you are constantly picking up little mounds of fish and kanin with your hand. Although the fish is good and learning to eat it proves to be quite an education, I am more curious about some of the other dishes.
(Above: Dinuguan(left)  Halo-halo (right) at FeLynn)
Gandhi and Dave are trying to pass their pancit onto anyone who's willing. They both complain that it's terrible, so I try it. It's really dry, but the noodles are so soft they've become brittle. I agree that I'm not the biggest fan of it. Raymond and Bianca both try it and tells us that this is actually pretty good pancit for a restaurant. The census seems to be that everyone's mom could make it better, but this is still pretty good. Bianca is really excited about getting me to try the sisig. Sisig is made up of various parts of a pig's head, including cheeks and ears. Typically, it is served on a hot plate with a fried egg on top. SInce FeLynn is a turo-turo, it's served here as just a scoop on the plate. Raymond tells me this is proper drunk food. "Ya know, when you're really drunk you just get a plate of sisig and crush it." It's very lightly seasoned and is exactly the kind of grub I would eat spoon after spoon while drunk.
On the plate next to sisig is caldereta. Caldereta is a pork based concoction with pineapple, tomatoes, and potatoes. Traditionally, goat instead of pork is used, and sometimes beef is used. The meat is slow cooked with the vegetables to make it so tender that comes off the bone like BBQ ribs. The tomatoes and the pineapple offer a good balance between sweet and tangy. The final ulam is the dinuguan. Dinuguan means "to be stewed with blood." This is the dish I've been most excited to try. It comes in it's own separate bowl and is black and, honestly, kinda unappetizing looking. The concept is basically that pork is stewed in it's own blood. I take a bite, expecting an intense iron taste. Actually, it's a little sweet and tangy. Bianca tells me the tang is from vinegar added during the stewing process. The blood acts almost as a gravy for the rice, adding a ton of umami flavor. Although I would absolutely order sisig again and caldereta was immensely flavorful, dinuguan was probably my favorite. We still had the turon and pork BBQ left, and of course the halo-halos.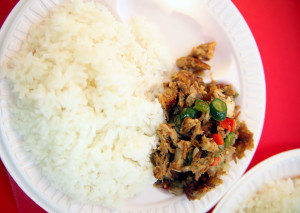 (Above: Sisig at FeLynn)
I try the pork BBQ first. I've had Filipino style BBQ before, and this was as good as anything I'd had. Bianca fills me in on the preparation involved. In the Philippines, most meats are marinated with soda as a tenderizer. In BBQ, they typically use 7-Up. She tells me they won't really use sugar, but the soda has carbonation so it helps to loosen up the meat. Calamansi, a Filipino citrus that resembles a small lime but tastes somewhat closer to lemon, is also used. The meat is also marinated with soy and garlic, and banana ketchup is used as a glaze. I've been fascinated by banana ketchup since I first heard about it. As the story goes, tomatoes were in short supply on the islands during World War II, but bananas were abundant. So, it's basically the same recipe as tomato ketchup but with bananas instead. The thing that stands out most is how sweet it is, but with a spiciness lingering somewhere in the background. Even though there's a ton of chemicals added to artificially change the color to red, it's popularity hasn't slowed down a bit. It may not be for everyone, but I am definitely a fan.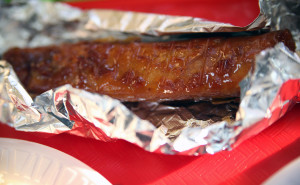 (Above: Turon at Felynn)
We close out our meal with desserts. Turon is the first thing I try. It's a blended mix of plantains and jackfruit wrapped in a spring roll wrapper and fried. It's coated in caramelized sugar, which tastes a little burnt to me. The slight burnt taste aside, the turon was great. I've had fried plantains in Caribbean food before, but this was something new to me. I could almost visualize walking down a street in the Philippines eating one of these out of a foil wrapper. The halo-halo was the last thing to try. The only time I'd tried halo-halo before was at Jollibee, and I didn't care for it too much. Halo-halo translated means "mix mix." It's served in a cup with a spoon. The trick is to mix all of the layers together before eating. Typical halo-halo is made up of shaved ice and evaporated milk, leche flan, sweet beans, jellies, and sometimes ube ice cream. I learn quickly, though, that no halo-halo is the same. "It's really just what they've got lying around," Bianca tells me, as she scoops up some green Rice Krispies," like these, they're probably from Saint Patrick's Day. It's all good in halo-halo." Once mixed together, it's almost like a milkshake that you eat with a spoon. I still can't get over the little crystals of ice, so maybe halo-halo isn't for me. I do like the flan, and I've adjusted to the sweet beans. As we finish up the few scraps of food, Raymond and Bianca give a little lecture about not wasting anything. In the :Philippines, if you leave anything on your plate, even rice, it means it wasn't good. So don't order more than what you can eat, and eat with an open mind.
FeLynn is located at Parkway Shopping Center, 1943 Lynnhaven Pkwy, Virginia Beach, VA
FeLynn's website http://www.felynnoriental.com/ 
This has been Part One of Southern Grit's Family Meal: Filipino Food Fest, Blood Stew and Banana Ketchup. Stay tuned for Parts Two and Three. Hell, maybe we'll even do a Part Four. Up next is Part Two: Detours
(Above: photo from Part Two- Detours with Gandhi Holub, Chris Fellini, and Bianca Busante at Red Ribbon)