Article by Fitz with input from Southern Grit Staff and Contributors
Photos by Fitz
This "Best Of" list for 2017 is not about making friends. It's not about diplomacy. It's about the best food I've put in my mouth while dining out in 2017 with some input from staff and contributors at Southern Grit.
This list focuses solely on Norfolk and Virginia Beach rather than all seven cities of Hampton Roads, as those were the cities I frequented the most in 2017 while gathering content for the magazine. While I've made it a point to eat at most of the leading local restaurants in Norfolk and Virginia Beach, I can't make that claim substantially enough to warrant involving the other cities in Hampton Roads. Also, my budget, like many other Millennials/ Gen Xer's, tends to keep me in the $25 and under range. Finally, when trying most of the dishes I had this year, the chefs, owners, restaurant staff were not aware SG staff, contributors or myself were doing so (or at least we attempted to keep them in the dark).
I could go on and on getting into more details about how I compiled this list, and remind everyone this is just one person's opinion, but enough with the bloviating. Here are Southern Grit's picks for the BEST BITES of 2017 in Norfolk and Virginia Beach!
15. Ham and Cheese Sandwich – Pendulum Fine Meats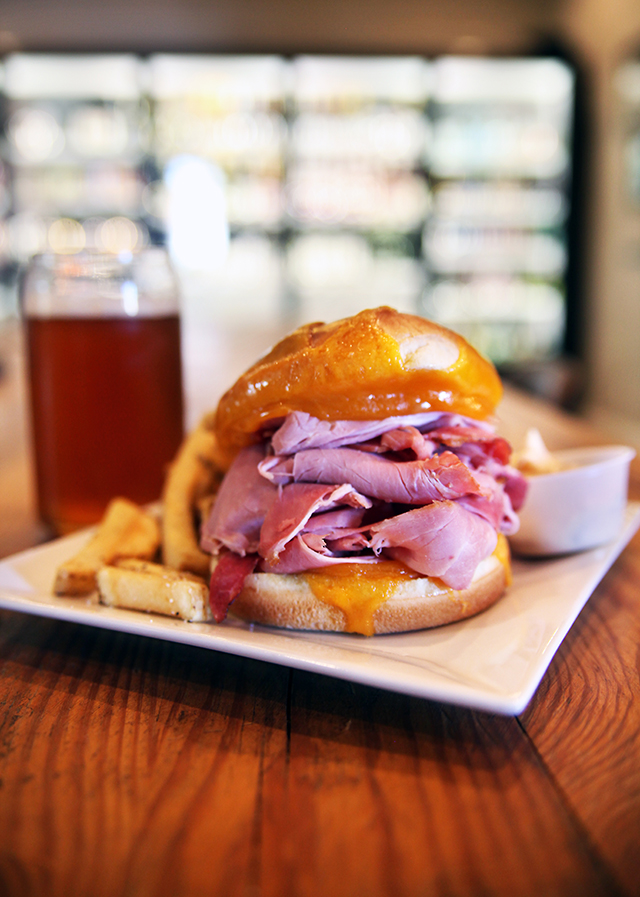 From Jarrell Williams at Nomarama to Danielle Jones at Slice & Torte to most recently Guy Fieri of Diners, Drive-Ins and Dives fame, food personalities both local and national have been singing the praises for Pendulum's lunch game for some time now. I am no exception. And when you bite into their divine house-made ham and cheese sandwich, you'll taste why this sandwich kicks off our best of list for 2017. Pendulum Fine Meats is located at 820 Shirley Ave in Norfolk and online at pendulummeats.com
14. The Full Frog – Barbeque by Froggies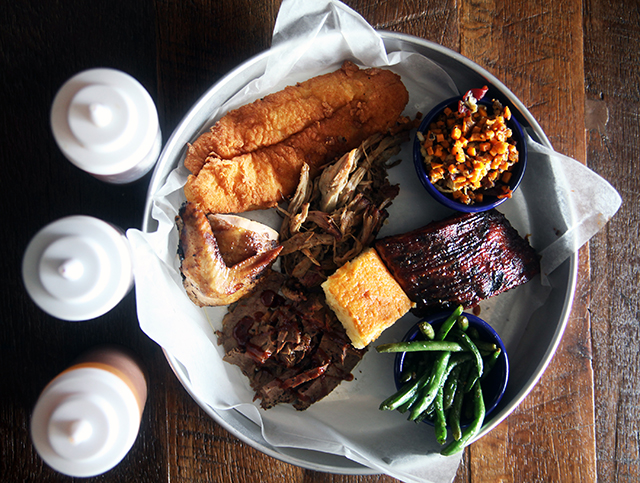 The only thing better than Chef Chris Bailey's smoked chicken, is his smoked chicken with ribs, pulled pork, brisket and fried catfish. The "Full Frog" is full of hits, and the substantially sized meal hits a peak when you bite into the "crust", as Chef Bailey describes it, of his expertly smoked and seasoned chicken. Barbeque by Froggies is located at 3656 Shore Dr. in Virginia Beach and online at barbequebyfroggies.com
13. Morning Bun – The Bakehouse at Chelsea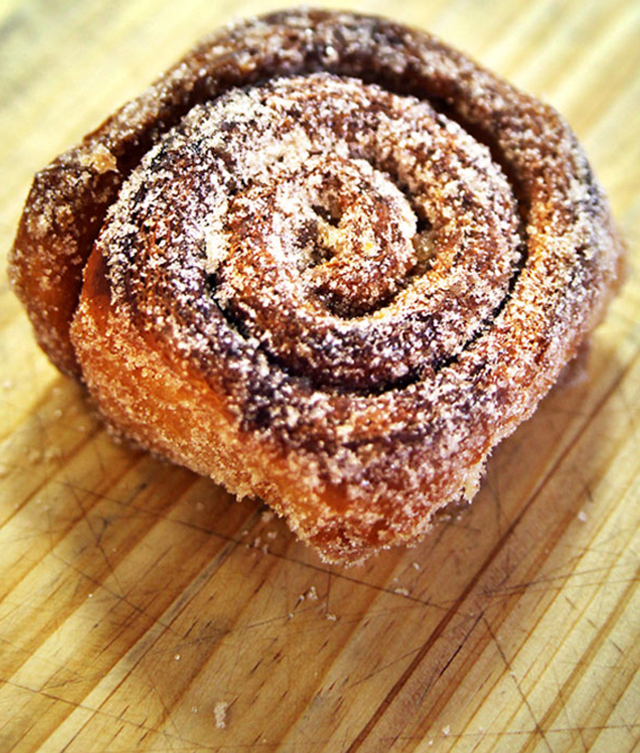 Sometimes it is the simple things done with care that stand out. At The Bakehouse at Chelsea, their morning buns speak to such a culinary ethos. While they are straight forward-butter, scrap dough, brown sugar, organic sugar and cinnamon- when the morning buns first come out of The Bakehouse's fire brick ovens, there may not be a more divine morning sweet treat to be had in Norfolk. The Bakehouse at Chelsea is located at 1233 W Olney Rd in Norfolk
12. Sorghum Glazed Pork Belly, Tichan Scallop, Confit Tomato, Chives, Parmesan, Risotto – Esoteric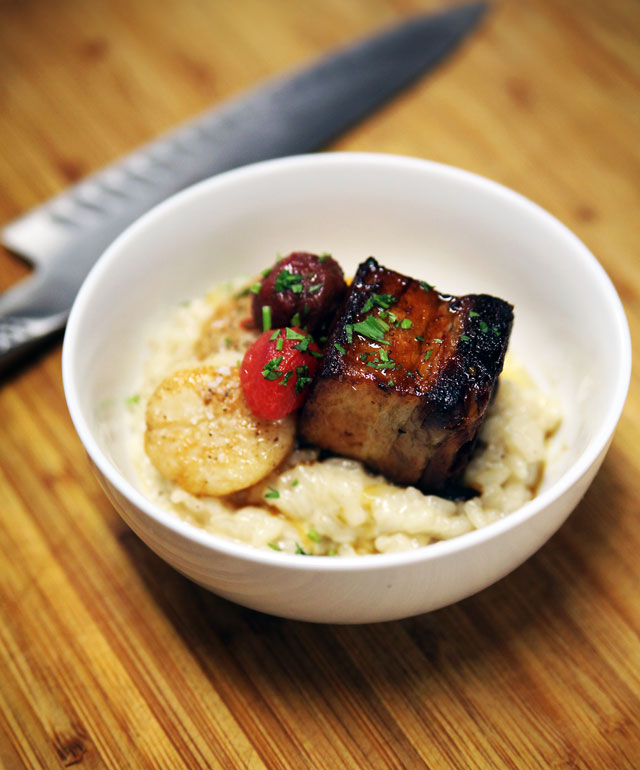 This surf and turf jewel by Chef Brian Wegner is the bite that made me rethink tomatoes early in 2017. With the exception of condiment based tomato products, for the majority of my life I haven't been the biggest tomato fan. Taste buds change with time however, and Wegner's confit tomatoes were the catalyst. The process drew out the sugar notes exquisitely, which married perfectly with the sweet savory pork belly and salty/briney scallop. Esoteric is located at 501 Virginia Beach Blvd in Virginia Beach and online at esotericvb.com
11. Corned Beef and Hash – The Stockpot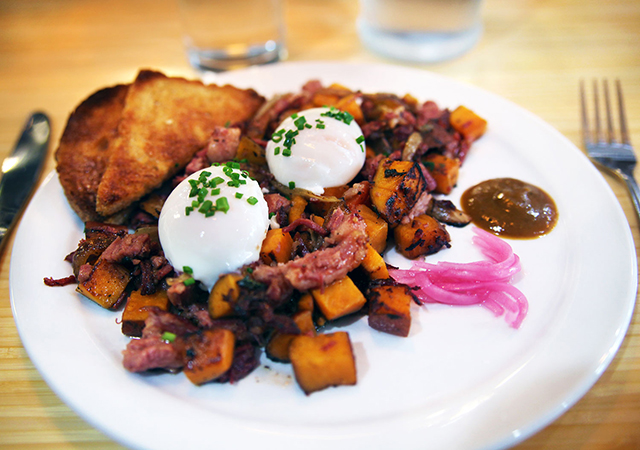 Coming in just outside the top ten and the first non-sweet breakfast bite is the savory corned beef and hash from Chef Anne Galante at The Stockpot in Virginia Beach. Having first had this great breakfasty/ brunchy dish in 2016, in 2017 I found myself ordering this dish often when having lunch at Stockpot. From the house-made corned beef, to the sweet potatoes from Cromwell farm in Pungo, I can't get enough of this dish. The Stockpot is located at 700 19th St, Ste 106 in Virginia Beach and online at stockpotsoups.com
10. Scallop, Celeriac, Apple Jasmine Tea – Chops Virginia Beach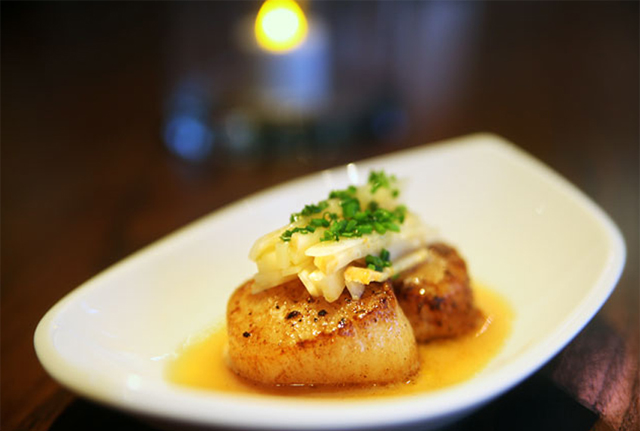 Chef Eric Nelson's sea scallop duo with celeriac in an apple cider and jasmine tea is a true highlight on the Chops VB menu. The unfiltered apple cider is steeped with a jasmine tea from Heritage, an organic store off Laskin Road in Virginia Beach. There are a lot of decent-to-good scallop duos one can find around Hampton Roads but this one really stands out from the pack due to the technique and thought that went into it. The sweet tasting tea makes the naturally sweet and salty flavor of the scallop even more complex. The crunch of the celeriac (celery root) which is compressed with mirin, gives the dish a textural complexity that is nothing short of delightful. Chops is located at 336 Laskin Road in Virginia Beach and online at chopsvb.com 
9. Biscuits and Gravy – Clementine's at Riverview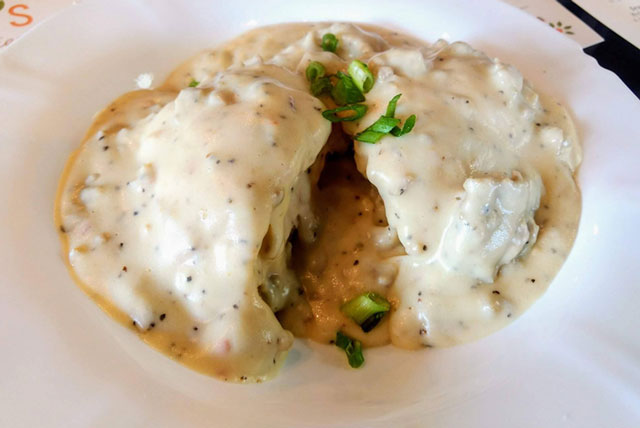 The lightest and fluffiest buttermilk biscuit smothered under some of the most savory sausage gravy I've had locally, is the biscuits and gravy situation at Clementine's at Riverview. I don't know exactly how the Fraley family came up with this gravy recipe but Owner and Chef Rick Fraley Jr. and fam' should be proud. Clementine's came out of the gate strong when they opened their doors recently. This dish in particular speaks to how serious they are about making great brunch dishes. Clementine's is located at 110 LaValette Ave Suite C in Norfolk and online at clementinesriverview.com
8. Big Dave's Cheesesteak – Stoley's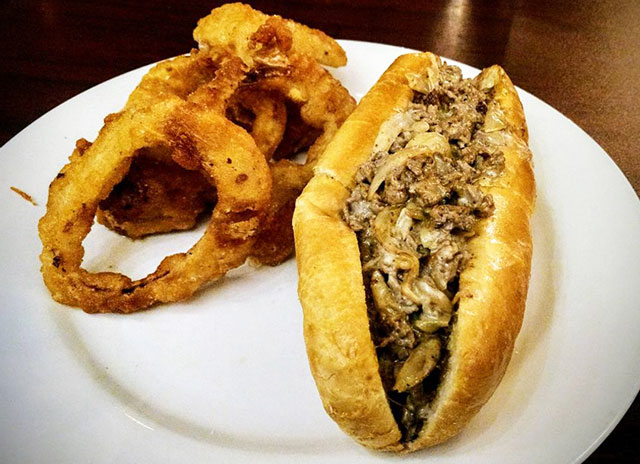 The first of two offerings from Chef Hannah making this year's best of list, the Big Dave's Cheesesteak at Stoley's is done the way his father liked it. Thinly shaved beef, roasted onions, wild mushrooms, and house-made Regular Chef pepper jelly are lathered with American cheese. It is a big sandwich with bold flavors. While it does diverge a bit from the tried and true cheese steak rendition, many around town, including myself, feel it elevates it. Stoley's is located at 1408 N Great Neck Rd Ste 105 in Virginia Beach and online at stoleys.com
7. Chocolate Raspberry Cheesecake – The Bonbonnier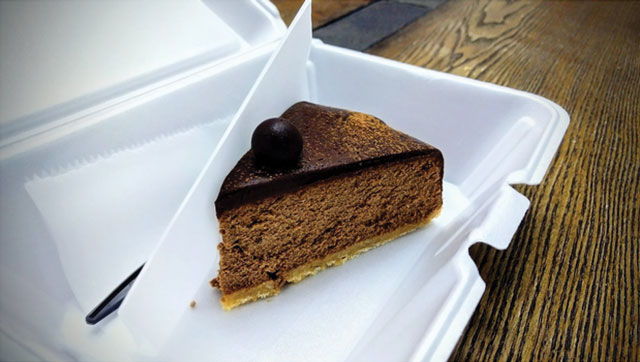 Baker and Owner Lisa Lain's cake game at The Bonbonnier is grade A. Just ask anyone who has ordered one of her old fashioned birthday cakes. I've been aware of this since I ordered my first birthday cake from her around two years ago. However, she caught me off guard with this chocolate cheesecake slice with chocolate raspberry ganache earlier in 2017. I was surprised at just how fluffy and light the cheesecake was. Blissfully the raspberry notes slid through the chocolate, making this one of the best bites of cheesecake I've ever had. The Bonbonnier is located at 913 W 21st Street in Norfolk and online at thebonbonnier.com
6. Collards – Supper Southern Morsels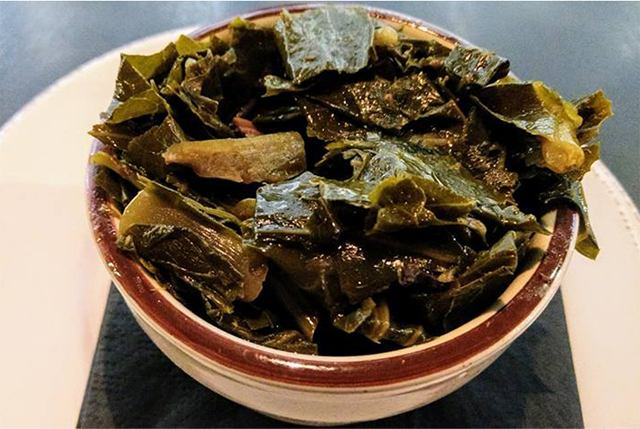 The first of two bites from Executive Chef Josh Gregory that made this year's list, Supper Southern Morsels' collards are crafted with care. With more of the stems left in the collards, they are cooked down low and slow with smoked bacon, onions, salt, and house-made hot sauce. Since Chef Gregory took over the Supper kitchen in August of 2016, the food has been elevated to fully complement the inviting decor and atmosphere. The comforting taste of the collards speak to his skill in the kitchen and substantial effect on the food at Supper. Supper Southern Morsels is located at 319 W 21st St in Norfolk and online at suppereats.com 
5. The Belly Jelly Burger – Stoley's
There is a reason Chef David Hannah won the first Nomarama burger battle. For many foodies he is THE burger guy in Hampton Roads. The taste of his Belly Jelly burger speaks to the deservedness of his title and why he is an odds on favorite to take the Nomarama title again in 2018. The deliciousness of Hannah's burger is in the mingling of his house-made Regular Chef jalapeno pepper jelly with the all beef patty and slow roasted pork belly. It's a perfect combination of sweet, savory and spicy. Add in the red onion marmalade along with an ample slab of cheese and you end up with the best burger of 2017. Stoley's is located at 1408 N Great Neck Rd Ste 105 in Virginia Beach and online at stoleys.com
4. NFK Hot Chicken Sandwich – Supper Southern Morsels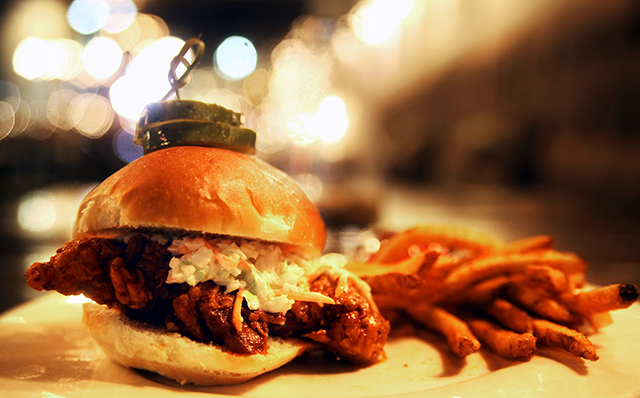 Along with being one of the most affordable bites I've had this year, Chef Gregory's NFK hot Chicken sandwich was damn near the best offering I've had the pleasure of putting in my gullet in 2017. When I tell you that this chicken sandwich is juicy, I'm as serious as a coronary of which the decadent taste of this sandwich would almost be worth suffering. Available on Thursdays from 5pm till close, this will be one of the best things you bite into locally when you try it. Supper Southern Morsels is located at 319 W 21st St in Norfolk and online at suppereats.com 
3. Pork Belly Entree – LeGrand Kitchen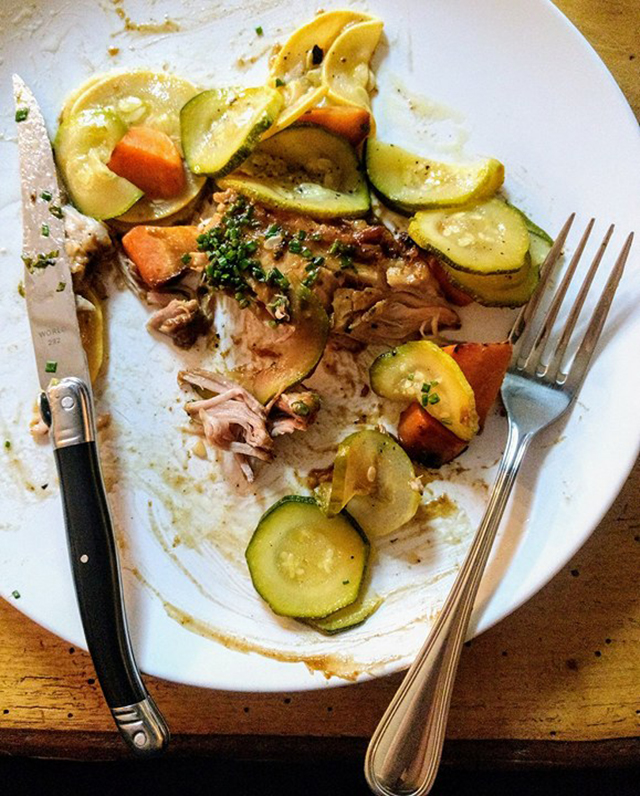 It's becoming an annual thing; it seems that every year a version of Chef Stephen Marsh's pork belly is going to loom large on the Southern Grit best bites list. In both 2015 and 2016 one of Marsh's succulent pork belly dishes made it in the top ten. This year is no exception. When you have a pork belly entree at LeGrand it's often a different version than the previous or following weeks as Marsh's menu is seasonal, particularly when it comes to vegetables, and constantly evolving. One thing is for certain however, the pork belly's texture is going to be spot on, juicy and gelatinous on the inside while seared and crispy on the outside. The version I had in early September of 2017, this time with squash, zucchini and carrots, sits at a strong #3. As the photo above will attest to, I was too concerned with diving into this substantially sized bad boy than taking the time to be a cell phone photo wizard. LeGrand Kitchen is located at 4515 Colley Ave in Norfolk and online at legrandkitchen.com
2. Foie Gras Hot Dog – Shiptown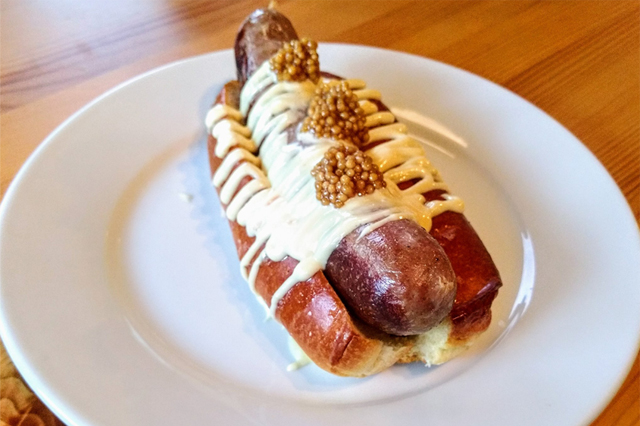 I had quite a few hot dogs in 2017. I frequent Perfectly Frank's whenever I want a tasty casual night out. When I want a bit more of an artisan style dog, I can't get enough of Pendulum's when it's available. I've even participated in a Norfolk hot dog crawl not too long ago. However, I have never bitten into a dog quite like Shiptown's house-made foie gras hot dog. It's got a bit of a snap-a must texturally if a dog is going to stand a chance at being special- and upon said snap, a huge juicy explosion of flavor. With sweet grilled onions resting under the dog and a slathering of Dijonnaise (mustard and mayonnaise), Chef/ Owner Stephen Marsh and Chef Ian Hock blew my mind and inspired a new level of gluttony in me. The runner up for this year's best bite will not be available in 2018 by the time you read this as Shiptown will be closing and Marsh is retooling the business there. Let's just say fat boy tears have and will be shed in the coming weeks.
1. Pork Belly – Redwood Smoke Shack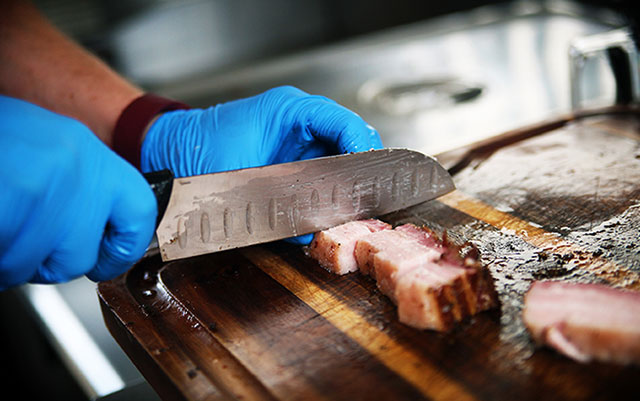 From Stoley's burger to Esoteric's surf and turf to LeGrand's repeat banger, there is a substantial amount of pork belly making its way on my best bites list. Pitmaster Bob Roberts' pork belly at Redwood Smoke Shack, however, changed the game this year for me. The only way to describe it is candied pork belly. It is sweet, fatty on the inside and crispy on the outside. Salt cured for seven to ten days, brined with apple juice, smoked for 5 hours, Texas crutched in foil and then smoked for an additional hour and finally pan seared, this pork belly is cared for and made with love. Roberts' attention to detail, low and slow approach and refusal to cut corners when making his food is why his pork belly is so heavenly. It's a masterfully cooked piece of meat from a Pitmaster and Chef at the top of his game. It was the best bite of 2017. Redwood Smoke Shake is online at redwoodsmokeshack.com
Honorable Mentions: Beet Salad with Ricotta – Shiptown | Pan Seared Green Chili Pepper – Judy's Sichuan | Sweet Soy Korean Fried Chicken Wings – Peck & Pour | Veggie Mishali – Cilantro Bangladeshi Bistro | Double Stack Bar Burger – Streats Restaurant & Bar