Part 1.5- Filipino Food Fest: Patience & Mamon
(lead photo- Fellini at Red Ribbon) 
Article by Chris Fellini with photography by Joshua Fitzwater
We leave FeLynn and head to Kapamilya up the road. Raymond's godfather owns Kapamilya and has agreed to open the restaurant just for us to check it out. We arrive while his "uncle" is meeting with a couple looking to book the space for a wedding. It seems to be a trend that most Filipino restaurants double as a space for all sorts of events, from baptisms to weddings. He shows us the abbreviated menu, which features mainstays like adobo, pancit, and lumpia. Once it becomes clear that we want the real deal, he tells us that many of these dishes require some time to prepare. We're faced with the options of eating the more approachable fare today, or holding out until next week for some of the less common (at least with non-Filipino eaters) dishes such as sisig and dinuguan. We talk amongst ourselves briefly, not wanting to hold the man up for too long. We collectively agree that in order to get a real appreciation of Filipino cuisine, we should wait until next week.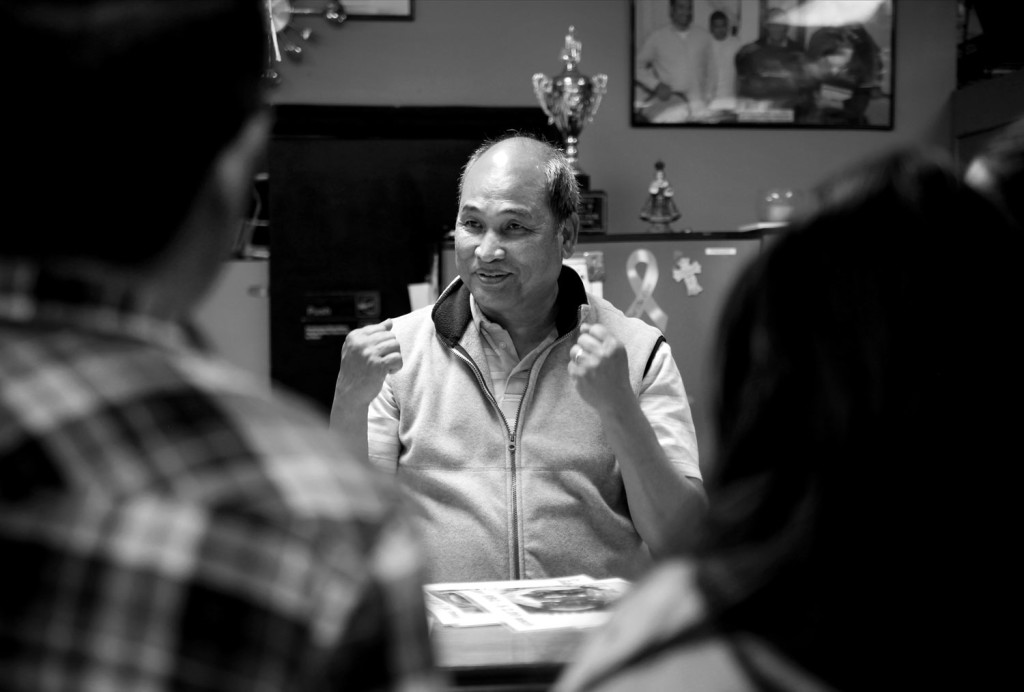 (above- Raymond Braza's Godfather and owner of Kapamilya)
We leave, slightly disheartened and scrambling to find a back-up plan. Susan's Kitchenette is too far to make it in time, Glory's Bakery is closed already, and no one can seem to think of another spot close by. Bianca suggests we check out Red Ribbon. "It's definitely a chain spot, like Jollibee, but it's still a classic." We decide that even a chain is better than heading home empty handed, so we all pile into our cars and head towards Kemps River Shopping Center, home of Red Ribbon Bakeshop.
Red Ribbon Bakeshop is a smaller chain than Jollibee, with only four East Coast locations, but is actually owned by the Jollibee company. They specialize in baked goods, from ube coconut rolls to cheesy mamon. Bianca tells me that if you want a cake for a birthday or whatever, this is the place to go. We walk in, and the space feels like a cross between an Arby's and a Coldstone Creamery. As we head to the counter, there are two display racks filled with various pre-packaged pastries and breads. To the right of the cash registers is another display case filled with freshly made cakes ranging from Food-Lion-tacky to professional-bakery-mouthwatering. I grab a cheesy mamon, a butter mamon, an ube mamon, and a mango bar. We head to the counter, where Bianca orders two palaboks and Fitz orders an ube coconut roll. We make our way to a table, bags of treats in hand.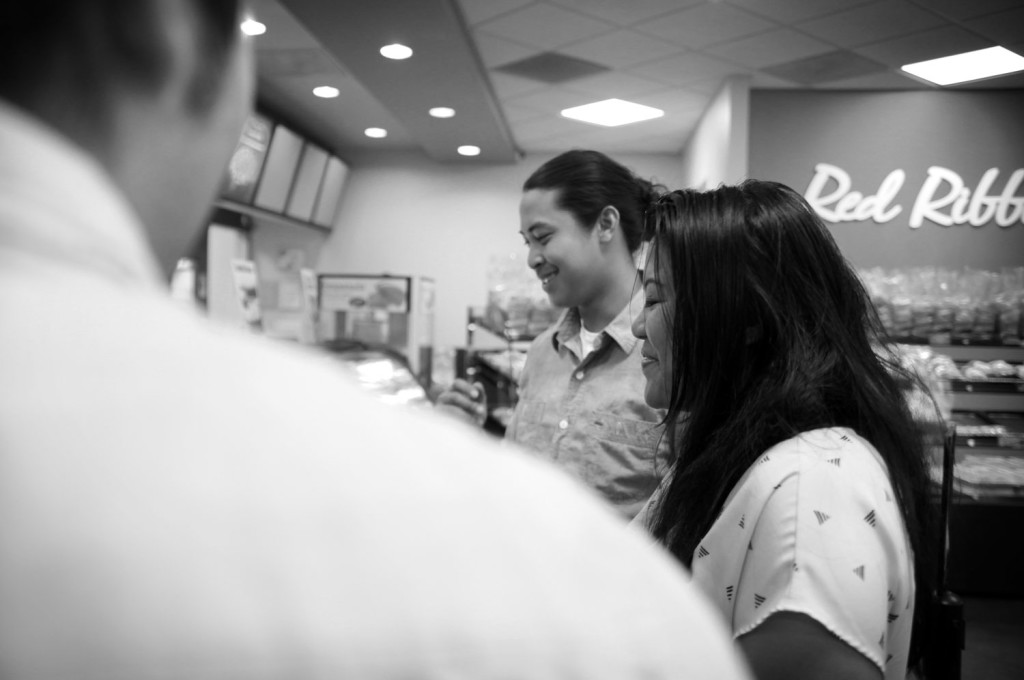 (above- Raymond and Bianca in line at Red Ribbon)
Gandhi passes around a cheesy mamon. It's like a buttery tasting sponge cake, but topped with shredded cheese, The taste is equal parts sweet, and slightly sour from the cheese. I open up the plastic packaging to the mango bar and take a bite. It reminds me of a fig newton minus the fruit filling. I taste a lot of grain and only a subtle bit of mango. I pass the bar around, because I'm secretly hoping someone else will finish it. It's not awful, but it is rather bland. Hoping the next thing is better, I begin slicing up the coconut roll for everyone. Set inside a box fit for a pair of shoes is a neon purple cake roll with white frosting and shredded coconut. The cake is intensely velvety, and the subtle sweetness of the ube comes through. The white frosting tastes pretty bland, which is actually a good thing in this case. As we're all chowing down on our slices of cake, the palabok comes out. Palabok is a specific type of pancit, adorned with a hard boiled egg and chicharones. The noodles taste buttery, with the chicharones adding a salty kick. Imagine spaghetti noodles with chunks of bacon and you're not too far off. This is definitely the fast food version of pancit palabok, and although it's quite tasty, I'm sure it could be improved upon. That said, it still doesn't last long at the table before we clear the plates.
Red Ribbon is definitely no Kapamilya, and I'm still somewhat disappointed that I have to wait an entire week. However, if I'm going to honestly explore Filipino food culture, it's only fair to include the fast food side of things. It'd be like exploring America's obsession with burgers without visiting a McDonald's, Even Filipino fast food feels unique, however. That homogenous feeling of American fast food hasn't creeped into places like Jollibee or Red Ribbon. While I'll stop short of singing their praises, I will say that you're still going to get something quite unexpected at the most commercial of places. As we head back to Norfolk, I keep trying to pronounce sisig and dinuguan properly in my head; I've decided these will be my go-to dishes, the benchmarks to measure all other dishes by. I'm excited about next week, and seeing the differences between a turo-turo spot versus an a la carte style place.
Kapamilya is located at 1405 Lynnhaven Pkwy, Virginia Beach
Kapamilya's facebook page www.facebook.com/kapamilya.restaurant.and.lounge