Article and photography by Tabitha Ann Lopez
Lead photo of Layla Hamraz at Humboldt
You're out with your friends. We all know the scenario: one drink turns into two, three, four. You run into an old friend. A ROUND OF SHOTS BARTENDER! Now here's when the magic comes into play … if you're lucky, and I mean really lucky you'll find yourself not just in any bar – but a bar that serves PIZZA BY THE SLICE. It's Hampton Roads though you whine. I mean, we're not in New York City here, right? What are the odds of finding a pizza window? Are there any pizza windows? Well actually, there are. Let's dream bigger. You're home, and you're craving- not just any pizza- but, your favorite local pizza AND a beer. No problem. Lies, you say? I think not.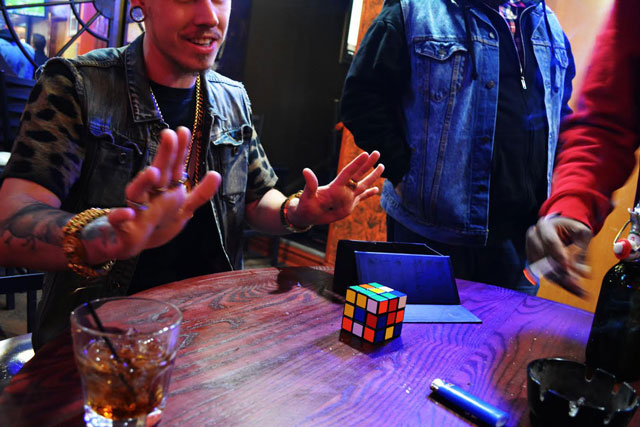 Primitive survival instincts kick in. Something about blood sugar levels dropping? You long not for another sugary watered-down well drink, but red hot marinara. Lipstick long gone? Don't care. Give me cheese, please. We're talking about THE DRUNCHIES (drunk munchies).
Well, turn around & feast your eyes. You've arrived. If you're new to town ~ Welcome to Cogan's. If you're a local … well, yeah you know. Cogan's was/is/always has been a Norfolk staple. One might even go as far as to say any young person living in Ghent in the last decade has graced this doorway at least once if not a thousand times. And, if the winter blues have taken a hold of you – you're still in luck. That's right Cogan's will not only deliver your pie to the door, but they'll even bring you a beer.
———————————————————————————————————–
———————————————————————————————————–
And the pizza window I mentioned? You need not in be in a large city for that, you need not even be in Norfolk, and although Humboldt Steel has opened a second location, those of us in a much quainter neighborhood also have the pleasure. That's right! Your mistress of pizza lives right here in Olde Towne, Portsmouth where pizza is being served city-style right out the window. So, next time you feel like leaving that house to have a nightcap – don't forget it's always better when followed by pizza and while taste is subjective and I'm more of a fine diner myself – let's face it: there's no escaping THE DRUNCHIES.
For more on Cogans Ghent visit them online HERE
For more on Humboldt Steel Corporation visit them online HERE